Royal Order of the Sword , Sword Cross, by C. F. Carlman, Stockholm , ref s1932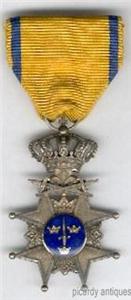 Click to open supersize image

Click to open supersize image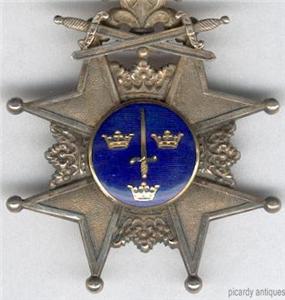 Click to open supersize image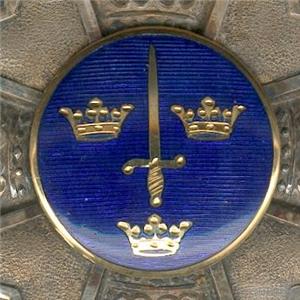 Click to open supersize image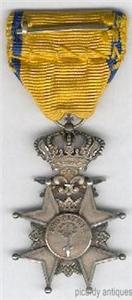 Click to open supersize image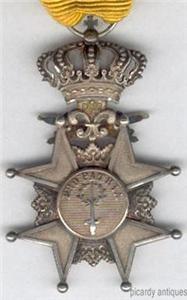 Click to open supersize image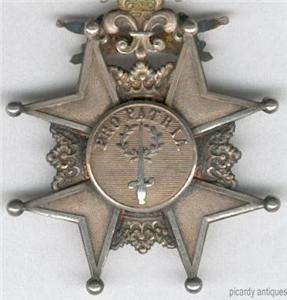 Click to open supersize image

Royal Order of the Sword (Kungliga Svärdsorden), Sword Cross, by C. F. Carlman, Stockholm

Silver Maltese cross decussate with ball-tipped finials and with silver Swedish crowns between the arms, with crossed swords above and on swivel crown suspension with maker's mark 'CFC' (C.F. Carlman, Swedish crown jewellers, Stockholm) and silver hallmarks to the reverse; the face with a circular central deep blue enamel medallion bearing in gilt an upright sword and the three crowns of Sweden; the reverse with a circular central medallion with horizontal hatching bearing an upright sword imposed on a laurel wreath, inscribed 'PRO PATRIA' (Latin = for Fatherland); on original ribbon mounted for wear. The Order of the Sword was instituted on 23 February 1748 by King Fredrik I, reinstating an Order dating from the 12th Century, to be awarded to officers for long and faithful service. On 26 June 1850, the Sword Cross was added for award to non-commissioned officers and the Sword Medal for other ranks, both for at least 16 years' service. The order has not been presented since 1974. A very fine example of excellent quality.
All medals are Genuine Authentic originals

We do not offer copies, replicas or re-strikes.

Medals are full size unless clearly stated otherwise

Sometimes it is necessary to offer replacement ribbons when on the earlier items the originals are either too worn or are missing.

The images on each listing are of that item we do not use library images.
All items listed are in our own stock, and are dispatched professionally packaged by the safest means possible.
If you are searching for an item which is not listed please do not hesitate to contact us by email in our contact us page, we have a large stock changing daily and expert contacts world-wide.

Click here for more great medals!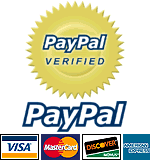 UK Customers
can pay by PayPal, Personal Cheques, Bank Transfer & Postal Orders.
Personal cheques should be made payable to M E Moores

International Customers
can pay by PayPal or Bank Transfer only.

Your order will be processed on payment being cleared. Our handling & packing time is 3 working days. On top of this you should allow 2-3 days if you live in the UK, 5-7 days if you live in the European Union and 10-14 days if you live in the rest of the World.

All items are in stock so our deliveries are quick.

No collections are allowed and we use only verified commercial couriers.

We do not accept Escrow.



UK Customers please refer to the delivery prices and options at the bottom of this page.

All items are sent fully insured

Please refer to our shipping costs in the shippng tab of each item listing page or email us and we will obtain the best shipping option for you.

Email us before paying if you have purchased more than one item in the same auction as you will qualify for a shipping discount.

Click here for more great medals!



Payment must be made within seven days of the end of the auction unless agreed with us before the end of the auction.

All bids are final.

We do not make second chance offers. If you receive one report it immediately to ourselves and to eBay.

Returns Policy:

In the unlikely event that your item is faulty or damaged in transit please email us as soon as possible and we will arrange for it to be relplaced subject to the following conditions:
The original packing and paperwork must be enclosed.
All return postage & insurance costs to be paid by the customer.
Should we send you the wrong item any replacement, postage & insurance costs will be paid by ourselves.



Welcome to our shop.

As our many existing customers over the years already know :

We have been trading on eBay since 2002.

We have a positive feedback in excess of 2500 from customers World Wide.

We have Fully Verified PayPal status.

We have Full Membership of the Square Trade Seal Association. All of this, of course, means you can have the utmost confidence in our products, Returns Policy and overall Business Integrity.

Thanks for looking and happy shopping.


Click here for more great medals!



If you have any questions either click on the item page under contact seller or you can email us direct on sales@picardyantiquesltd.com

Fax (0033) 153016555